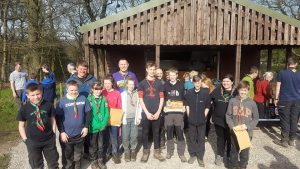 Congratulations to our team of Scouts on winning this prestigious event yet again. That makes it a total of 7, yes seven, times now!
23 teams from all around West Lancs competed to take home the magnificent trophy made by the late Max Melling, former District Commissioner for Morecambe & Heysham.
Teams are required to plan a route, visiting a number of checkpoints, and have to arrive at each within a limited time window based on their estimated timings within their Route Plan.
The teams reported to the start point at Dunsop Bridge, claimed to be the centre of the UK, on Saturday 25 March to commence their journeys. The weather was perfect with light winds, clear skies and warm sunshine after early frost. After having an equipment check, the teams set off to navigate their route of 12 miles going via Burholme Bridge to New Laund. Here the teams' routes separated, one going via Higher Fence Wood, Lickhurst Farm, Chipping Lawn, Saddle End Farm, Blindhurst and on through Bleasdale, Higher Brock Mill and down the Brock to Waddecar Campsite, Inglewhite. The other went by way of Fair Oak, Higher Greystoneley and Knot joining the other route at Chipping Lawn, then separating again to go to Chipping, Fish House, Blindhurst and Bleasdale to Waddecar where all the teams camped for the night.
The teams awoke early on Sunday to a clear cold morning – perfect for walking. A further route of 6 miles was followed taking the Scouts via Higher Brock Bridge, Brock Bottom, Bannister Hey, High House Farm, Foggs Farm, Butt Hill, Cobble Hey, Landskill and Delph Lane and back to Waddecar. During the course of the walk the teams had to find the answers to a number of questions posed on the route, previously identified by map references.
When all the marks were added up our two teams emerged in 1st and 3rd places.
Congratulations to the teams on excellent performances and for keeping Lonsdale's flag flying. Thanks to the organising committee for another well-run and enjoyable event.
Pictured below are our winning teams from 2000, 2002, 2003, 2007, 2008, 2011 and this year. WOW!