What's Scoutings prime activity – camping of course!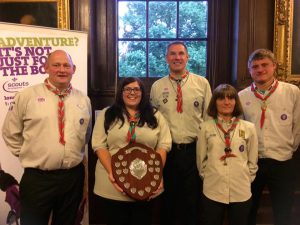 Well, we are pleased to announce that 16th Morecambe has won the Lonsdale District nights away trophy for the most nights spent away in the District in 2016-17.
The trophy was presented by the District Commissioner Craig Dewar at the District's Annual Review and AGM on Thursday night 29th June 2017 in the Banqueting Room at Lancaster Town Hall.
Records are kept of all nights away experiences undertaken by Groups in Lonsdale with bonus nights being awarded for camps involving the youngest section Beavers and for international expeditions.
When all the totals were added up we came out as having given our Scouts the most number of nights away experiences.
Well done and congratulations to all concerned!
(ASH)