Members of the 16th Morecambe Scout Group cycled 1,041 miles to raise funds for a defibrillator in Torrisholme Village. Members, family and friends of the group took to the Salt Ayre cycle track for a day-long sponsored cyclothon on Sunday September 18. The Group cycled the equivalent of cycling from Morecambe to Milan – to raise funds for the defibrillator and a second portable unit for the group to take along on their activities.
Many of the children earned their cyclist badge and there were several star performances of the day. The youngest cyclist of the day was three-year-old Harry McCormick who, dressed as superman, completed seven laps and Ted Pye, 79, was the oldest participant, cycling two laps. Seven-year-old Edward Potter from the Beavers section travelled further than his Dad could manage, cycling 48 miles. Even after a crash Edward got back on and continued the event.
Nine-year-old Zach Earnshaw topped the Cub section distance with a ride of 30 miles. From the Scout section, Oliver Gray, 12, matched Edward's 48 miles (60 laps). Ned Longden, 16, an Explorer Scout, completed 100 laps (80 miles). The longest ride of the day was undertaken by Scout Harry Shaw, 14, who cycled 125 laps – 100 miles.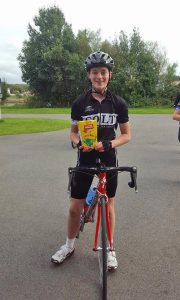 Harry's ride started at 8.30am with a plan to ride all day. After he reached his initial goal of 100 laps he decided to go the longer distance. Harry, who is also a member of Cog Set cycle club and City of Lancaster Triathlon (COLT) Juniors, crossed the line travelling at a speedy 21 miles per hour. Harry said, "It was tough towards the end but everyone's support kept me going. "I am proud to have cycled 100 miles, but even prouder to have cycled for such a worthy cause."
Andrew Blenkinship, the Scout Group's Leader, said: "I feel immensely proud of the boys and girls in 16th Morecambe Scouts. "They couldn't have done this without the support of their friends and families. Many thanks to the committee who helped organize the day." 16th Morecambe Scout Group would like to extend their thanks to Scott Walker from Smalley's of Morecambe Cycles and Salt Ayre Leisure Centre.If you would like to make a donation towards the cause please phone 07769627509.
www.lancasterguardian.co.uk