Scouting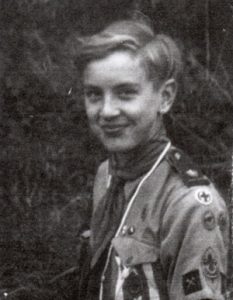 I first joined the 16th Morecambe & Heysham Cubs who met in the vestry, the size of a household lounge, at the Church of Ascension at Torrisholme, when I was 8 years old (1945). The cub mistress was Mrs Brown from Low Lane and her assistant was Thelma Pennell who lived in an old farm cottage near to Torrisholme Square.
[* An article in the 7 September 1929 edition of the Morecambe Guardian reads "TORRISHOLME TOPICS – LAMP STANDARD. The lamp standard in centre of roadway in the triangle at Pennell's Corner has (at last) been removed." ]
Later I joined the 4th M & H cubs at Bare Methodist church. We met in the basement. The scouts were sea scouts and wore a different uniform to other scouts. The Scoutmaster was Mr Fred Driver.
Later I went back to Torrisholme to join the scouts under skipper 'Popeye' Barker. By this time there was a church hall of sorts with a corrugated asbestos roof. We would play British Bulldogs with one patrol charging to get from one end of the hut to the other through the opposing team.
We went on our annual camp at the end of July to Beezley at Ingleton with the 1st Morecambe & Heysham troup from St Lawrence's with their scoutmaster Kenneth Harmsworth, because we had no camping equipment of our own. I remember going to the top of Ingleborough to spend the night there with a fellow scout Frank Walmsley, but we returned before dark because all the best sheltered places were full of litter. We had huge rucsacs full of warm clothing.
Later, when 'Popeye' retired and Mr Harmsworth had moved to London, I arranged the annual camp at the age of 15 at Crosby Ravensworth near Shap. By this time we had our own equipment thanks to collecting waste paper and jam jars from house to house and trading them in. The tents were ex-army ridge tents and weighed a 'ton' each. We also bought cooking equipment and all the extras like latrine tents, groundsheets etc. We camped at Crosby Ravensworth twice. Mr & Mrs Harmsworth came up from London each year to take us. Teddy Relph, a local man took us on an epic walk to the Hawes Water dam and back, a distance of nearly 20 miles. The local lads (and lasses) were very friendly, and I visited them several times in later years, once on my bike. It was about 40 miles each way, a distance I had never peddled before, but on the return journey I was picked up by the driver of the Morecambe Direct Supply truck at Tebay, and dropped off at the end of Broadway!
I passed many proficiency tests and completed my first class hike, a distance of 14 miles, camping out overnight at Over Kellett. I became a Queen scout enabling me to go to Gilwell, the home of scouting, and to St George's chapel at Windsor. Later I completed my Venture hike, a distance of 20 miles and an overnight camp at Quernmore. On two occasions I went camping in Ireland. The first time with my Uncle Ernest's troup to Powerscourt in county Wicklow, and the following year to the Mourne mountains with a handful of senior scouts from different troups in Morecambe.
On one occasion I decided to take my patrol camping to Beezley, Ingleton. The trek cart that we had bought from the collection of jam jars etc was loaded up with all the heavy camping equipment and off we tugged it to Morecambe Promenade Station, where all the gear was put in the guards van and the cart dismantled (even the wheels had to come off). The train proceeded to Clapham, where the same procedure was followed to get on a train on the opposite track, which took us to Ingleton. The guards van was emptied and off we went with tow ropes hauling the cart and its contents up the steep lane to Beezley farm about 3 miles away. Mr Chapman the farmer gave us a plot to pitch camp and I got some rabbits from him to skin, gut and cook for my patrol (my brother had taught me how to do this).
We made daily hikes up Ingleborough and the surrounding hills for a few days before packing up camp and returning to Morecambe in the same way as our outward journey. Imagine today what the authorities would say about a 15 year old taking a group of younger lads on such an expedition!
What would they say about scout knives which each of wore on our belts? They were an essential part of the uniform with the traditional Baden Powell hat, neckerchief and woggle, short sleeve scout shirt and shorts plus long socks and polished shoes.
The Editor of the scout journal, Hayden Dymock organised go-cart races and one of these events was held on Morecambe's west end promenade. I was asked to be the local organiser and the event attracted hundreds of spectators. On remembrance day we paraded to the cenotaph and I had the honour of placing the wreath at the foot of the cenotaph. For a scout group with no Scout master we were the envy of the district, because we won most of the trophies competed for annually.
Mass celebrates the life of popular Barry
February 20, 2015 | Westmorland Gazette
MORE than 300 people attended a requiem mass at Christ the King Church, Milnthorpe, to celebrate the life of Barry Ayre, who died aged 77.
Mr Ayre grew up during the war years and retained vivid memories of the German bombers flying over Barrow shipyard. Membership of the 16th Morecambe and Heysham Scouts was more important to him than academic studies at Lancaster Boys Grammar School, and introduced him to the mountains and joys of the Lake District.
At 19 years of age, National Service on the Island of Sylt in Germany gave him the opportunity to hitch hike around Northern Europe – "the university of life" he called it. He financed this by selling his cigarette rations to the Germans!
Back home, through his Catholic friends Mr Ayre was introduced to the Achille Ratti Climbing Club (ARCC). His enthusiasm and efforts helped raise thousands of pounds towards various Catholic projects in Lakeland, and he later became a trustee of the club.
It was appropriate that his marriage to Monica in 1989 was the first marriage to take place in the ARCC Chapel of Our Lady of the Snows, Langdale, which he had been instrumental in building.
Mr Ayre spent 33 years working first as advertising manager, then circulation manager for the Morecambe Visitor newspaper. Describing himself as a frustrated journalist and printer, he then became editor of the magazine of the Arnside and Silverdale Area of Outstanding Natural Beauty, the Keer to Kent. As well as supporting Monica in her profession as a doctor, this became his pride and joy.
Membership of Arnside Ramblers gave him the opportunity to share his love of the fells with like-minded friends, and within no time he was a group leader. It was in Mr Ayre's nature to always to put more into an organisation than he took from it.
Health issues in later life meant that Mr Ayre was forced to pursue less active hobbies, and these included membership of Widening Horizons, The Mourholme History Society, The Arnside Archive Group, Probus and Baker's Dozen. His sense of humour and extensive knowledge and information of the local area made him a welcome member.
Mr Ayre will be remembered by his many friends for his infectiously enthusiastic outlook on life and indomitable spirit, as well as his unfailing friendliness, wicked humour, corny jokes, but most importantly his smile. He is survived by his wife Monica, daughters Rachel and Ruth and two grandsons.