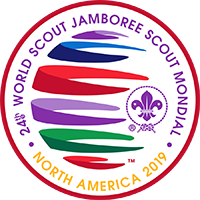 Don't miss out on the adventure of a lifetime at the 24th World Scout Jamboree taking place in West Virginia, USA in 2019. Lonsdale District are looking for 5 young people to send to the next World Scout Jamboree…
This is a once in a lifetime experience to share a camp with 40,000 Scouts and Guides from across 150 countries and territories from around the world! In West Lancs, we have space to take 36 young people for their biggest adventure yet. Due to the age restrictions and the fact World Scout Jamborees only happen every four years, young people only get one opportunity to attend a World Scout Jamboree. So, it really is a once in a lifetime opportunity.
➢ To be eligible as a youth participant at the 24th World Scout Jamboree, you must have been born between 22 July 2001 and 21 July 2005.
➢ The Jamboree will take place from 22nd July to 2nd August 2019. Further activities will be built around these core dates. This will most likely include a couple of days in city the USA and also Hosted Hospitality in the USA or Canada to visit to another Scout group.
➢ Participants will fly to the USA
IMPORTANT INFORMATION
➢ The deadline for applications is 11th February 2018. Late applicants won't be accepted.
➢ All applicants will be invited to and must attend a selection weekend at Silverhelme Scout Activity Centre Saturday 24th – Sunday 25th February 2018.
➢ The cost of a jamboree should never be an obstacle to stopping a young person applying. Two thirds of the cost is covered by West Lancs & Lonsdale Scouts. Scouts will have plenty of time to fundraise the rest with the support of Jamboree Co-ordinators